Media, Gaming, Robotics, Events
Where kids and adults come to play, learn and earn…
The Business of Playing, Learning, Creating
and Earning…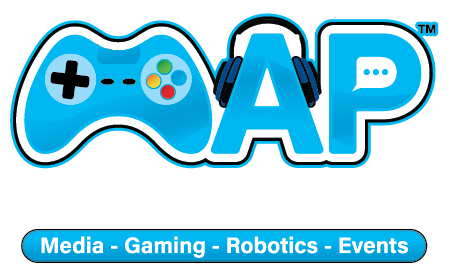 MAP Esports Network Inc. is a media, entertainment and metaverse (Web 3.0) focused content development and distribution company, with marketing channels that include physical and digital community touchpoints that reach mainstream and grassroots audiences.

Our podcast, video, esports, gaming centers, social media, zines and NFT platforms support disadvantaged children via STEM & STEAM, media, gaming, robotics and coding initiatives.
It's a Digital World…Come Play in it!
Play in the Power Players League™
Play and Learn at our Gaming Centers
Create and Earn in our NFT Marketplace
Learn about Metaverse, Esports and more on our Podcast and Video shows
Play and Learn at our Events
MAP Esports Network products and services are making a name for themselves by combining "what's needed" with "what's possible"— making play and learn technology, mentors, career info available on mobile devices, PCs, in community centers, churches, libraries, malls, living rooms in mainstream and disadvantaged communities in a fun and enjoyable way. "At MAP Esports Network innovation is what we do best. We love finding solutions to problems. With the heart of a start-up and growing resources, customers and supporters, we are always looking for ways to reinvent every aspect of our business. As we innovate, we find inspiration in people, customers and supporters – their needs, values, desires, and passions."
Jacob R. Miles
Founder & CEO
Advertisers/Sponsors
Gaining exposure to esports and videogame, growing grassroots audiences and consumers at home, on the road, at play or at work, while meeting social impact objectives.
Retailers/Gaming Centers/Communities
We provide a turnkey, solutions to support your brick-and-mortar infrastructure that increases traffic, revenue while having a positive social impact on your community.
Disadvantaged kids, families and communities
We provide play and learn, access to esports, gaming, robotics and coding competitions, mentors along with STEM and STEAM careers available behind the play.
Our platforms provide access to resources, teams/members info and data, mentors, competitions, casual gaming, audio/video content, training, guides, mentors, curriculum, marketplaces.
Media - Audio/Video
Our media content platforms consist of podcasts, videos, streaming, social media, websites, that feature entertaining, educational, aspirational brand friendly content from our influencers, educators, kids, teens, celebrities and business leaders.
Play-n-Learn Gaming Centers
Our physical centers operate as community touchpoints. Our Play-n-Learn center platform integrates our PPL, Robotic/Coding, Media, Mentors/Careers platforms for a turnkey solution for municipalities, non-profits and retail partners or franchise locations.
Power Players League™ / Teams
Our proprietary esports, robotics, gaming and coding league, The Power Players League (PPL), it has its own platform that provides everything needed to run a team, tournaments, stats, revenue, mentors, training and more.
Robotics / Coding
Robotics, Drones, Coding and Tech programs for kids, teachers and parents are included in this platform. We make tech fun and incorporate mentors, videos, camps, site visits to enhance our play and learn platform.
Careers / Mentors
Having a positive impact on communities is part of our DNA. STEM, STEAM and Mentors are built into esports, gaming, robotics, coding programs and competitions platform. We help prepare kids for the tech careers of the future.
NFTs, Metaverse, Blockchain
Opportunities in the Metaverse and Web 3.0 are significant. Media, Gaming & Commerce will be well represented. Our network and platform(s) are uniquely positioned to provide content, services and products via NFTs. Blockchain and the Metaverse.
As a nonprofit founder of READ Foundation, working with Map Esports has been empowering for my organization in the facet of competitive gaming, my students have collaborated and built camaraderie like never before. My organization also has been privileged to work with a great group of professionals and also the pleasure of introducing new and exciting programs to the Esports family, I look forward to continued growth and exciting experiences for our scholars.
Working together with MAP Esports to plan and execute the launch of our Esports Academy here at the Grapevine Library enabled us to take the event to the next level.  The team at MAP Esports Network are knowledgeable and passionate about education and advocacy in the esports ecosystem and, through their Project Family mission, our goals align.  We look forward to future collaborations and projects with the group at MAP Esports as we work to solidify our own foundation and provide our community with the tools and opportunities for success.
It started with a paper napkin and inspired conversation over breakfast. Collaborations and Partnerships are much more than signing a contract and calling it a day. It's the deeper relationships to mutually support and grow together. This is the core of why Innovation Media Enterprises and MAP Esports Network are fully committed to growing the MAP Esports Podcast Network as a joint effort.  Creating something new is challenging, but the rewards are immeasurable! Fast forward one year through the pandemic, MAP Esports Podcast Network is now firing on full cylinders to deliver amazing esports podcast content.  This is the drive and inspiration to keep striving, hand in hand.  Innovation Media Enterprises could not be happier with Jacob Milles III at the helm with the awesome MAP Esports team!
Teens to adults, stay connected…
to Playing and Learning. It's how you Grow! Become a member, subscribe, receive discounts, get invited to events, WIN with monthly drawings, receive our newsletter.